Queen Of Heart Costume
Tuesday, September 25, 2007
Looking for something a little different this Halloween? Then the Queen of Hearts is for you!
This outfit is as colorful as it is totally unique. It will turn heads at any Halloween bash or any event for that matter. Though here is an added treat for your bag of treats and tricks!. Not only do you get the outfit but the skin, hair, and scepter as well. Thats right all of it! So not only will people love your new outfit, they will love the entirely new you! So be the Queen of Hearts and send that pesky Alice back where she came from!
Comes with skin,hair,jacket,shorts,bloomers,should fluff,neck fluff,bloomer fluff, flex skirt and a scepter.
posted by Passionate Neko Dreams @ 9:47 AM

About Me
Name: Passionate Neko Dreams
Home: United States
About Me: Designer *Passionate Neko Dreams* I love designing Gothic Lolita's, Dolly Dresses, Neko, Punk, Urban, Gothic Vamp Designs, Lingerie, Vintage, and much more! I have made SL both my career and my home. I am by nature an ecclectic artist, ever exploring the depths of my own darkest dreams. It gives me great pleasure to bring you Gothic and original styles and designs, from the depths of my soul, to yours... =^.^=
See my complete profile
New Kitty Cats Meow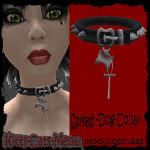 We at PND are happy to bring you our NEW sister store Kitty cats Meow!!! KCM has Neko tails,Puppy Tails,Collars,Neko Gear,Jewlry,Skins/Shape & Much Much More for the neko at heart !!!.



Working on blog. ;)
SL Fashion Blogs
Previous Post
Archives
Powered by