Dark Ones
Monday, May 17, 2010


Rubber meets blood red red fishnet in Saur Holt's new Black Widow! Designed with our shortest skirt possible, complete with collar & gloves. (You can't see it in this pic but the 2 middle fingers on the gloves are red.) Super sexy with the lines up the back of the stockings... :P


Feathers, fishnets, & collars define our new Gothic Raven! Fastens in the front with leather ties, complete with Saur's sheer split front dance skirt & cuffed sleeves! Lovely, dark, & eye catching, this one is ready for the club!


Get ready to squeak, slide or dance in Saur's brand new Gothic-Rubber! our barely there top & skirt is accented by ornate sleeves, stockings, leather choker & mesh gloves! Rubber panties are topped with delicate lace accents! ;)


If Alice in Wonderland wore black it might look something like Saur Holt's My Heart Dollie! Mesh meets studded black leather for this classic Dollie dress... A red cut out heart, ornate sleeves, & leggings complete this adorable look!
posted by Passionate Neko Dreams @ 6:29 PM

About Me
Name: Passionate Neko Dreams
Home: United States
About Me: Designer *Passionate Neko Dreams* I love designing Gothic Lolita's, Dolly Dresses, Neko, Punk, Urban, Gothic Vamp Designs, Lingerie, Vintage, and much more! I have made SL both my career and my home. I am by nature an ecclectic artist, ever exploring the depths of my own darkest dreams. It gives me great pleasure to bring you Gothic and original styles and designs, from the depths of my soul, to yours... =^.^=
See my complete profile
New Kitty Cats Meow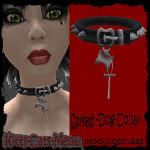 We at PND are happy to bring you our NEW sister store Kitty cats Meow!!! KCM has Neko tails,Puppy Tails,Collars,Neko Gear,Jewlry,Skins/Shape & Much Much More for the neko at heart !!!.



Working on blog. ;)
SL Fashion Blogs
Previous Post
Archives
Powered by