Neko Cat Fight Helmet
Sunday, December 30, 2007
Neko Cat Fight Helmet.
Strap on this helmet and prepare for a cat fight. Show the people in SL that you are a kitty that is prepared to fight for what you want. This helmet comes with basic rations attached, to make sure you won't loose your energy during the fight. With pop rocks to give the sugar rush, and a Dr Seus thermos to provide the caffeine boost, you are sure to be the last one standing. Also the helmet comes with sculpted neko ear shapes to keep your kitty ears safe from scratching, ensuring your good looks for years to come.

Mews

posted by Passionate Neko Dreams @ 10:01 AM

Party Dress
Friday, December 28, 2007
Party Dress
With New Years Eve only days away Lil Neko's is proud to announce a bright and cheerful party dress. This dress is bound to put a smile on your face with its vibrant colour and short revealing skirt. If the colour doesn't put a smile on your face the price sure will, at only L$175 it is the most affordable dress Lil Neko's has ever made.

Mews Happy New Year

posted by Passionate Neko Dreams @ 9:06 AM

Army Bratt
Thursday, December 27, 2007
Army Brat

Lil Neko's understands that it is a war out their, and sometimes love itself can be a battlefield so lace up those boots and strap on your grenades. This outfit is a little piece of fun for this holiday period, and will show the SL world that this year you are taking no prisoners. The outfit itself comes with an intricately detailed skirt, leg knife, grenade belt, bra and gloves.
Mews
posted by Passionate Neko Dreams @ 9:19 AM

Good News for the new years
Tuesday, December 25, 2007
As a lot of you know my store has been around in sl for a one year.
I have grown and learn lots about designing and the design world.I well be making some mush needed changes to make my store`s,ads and blog
posted by Passionate Neko Dreams @ 6:07 PM

Lil Neko`s Nurse
Monday, December 24, 2007
Lil Neko Nurse.
You have seen pictures of it at the store, and now Lil Neko's is proud to announce you can finally buy it!!!!!! This fun outfit has anime written all over it, and is the ultimate nurses uniform. Not only does it come with the outfit, but also an intravenous drip worn on the back, and a bandaged teddy with body hug AO. It's goth, it's cute, it's sexy and you are unlikely to find anything else like it in the whole second life right now.

Mews

posted by Passionate Neko Dreams @ 8:38 AM

Cascade Trench Coat
Saturday, December 22, 2007
Cascade Trench Coat.
Bring a little elegance to your own or even your favourite kitty's wardrobe with this exquisite trench coat. You will love the way the tail of this coat fans out from your body and will add a touch of style to your avatar. The raised collar also adds a flavour of attitude to this coat giving the impression that this kitty has claws. Remember that all of Lil Neko's products are fully transferable and therefore make the ideal gift for that special someone this Christmas.scroll

Mews

posted by Passionate Neko Dreams @ 8:51 AM

Innocent Neko Lingerie
Thursday, December 20, 2007
Innocent Neko.
Winter time is not only a time for wrapping up warm, but also getting undressed in front of the fire with that special someone. Why not surprise them this year with sexy lingerie from Lil Neko's. Made with a unique texture designed by Saur herself, this outfit is sure to excite. This outfit comes complete with stockings to add a little extra spice for curling up in your favourite warm place.

posted by Passionate Neko Dreams @ 10:37 AM

Sexy Sants Helper
Sexy Santa's Helper (with poofer).
This outfit is sure to bring not only a smile this Christmas, but with Lil Neko's new ultra mini skirt a few dropped jaws too. Not only does this outfit come with top, skirt, gloves and stockings, but also a candy cane particle emitter. With this you can send a shower of candy flying towards the one you love, or just appear in a poof of candy. If you are looking for something fun adorable and a little sexy to boot, this outfit is sure to deliver.


posted by Passionate Neko Dreams @ 10:35 AM

Girl of Moody
Tuesday, December 18, 2007
Grins this is my first riskay mini mini skirt Very sexy and HOTT. You are sure to keep them drooling at your next party . this mini skirt is sure to get you extra attention grins.come with t shirt, socks and a mini flex skirt.

posted by Passionate Neko Dreams @ 10:36 AM

Pink Cherry
Saturday, December 15, 2007
posted by Passionate Neko Dreams @ 11:26 AM

Miss Frost
design this Holiday dress after 6 days with no power and cold as heck giggles.This is a really sexy yet cute Holiday dress.Grins you will melt there hearts in this design.Come with blouse,shorts,stockings,should fluff.flex dress and a cute hair pin.

Mew Merry Christmas

posted by Passionate Neko Dreams @ 11:24 AM

Neko Paws
Friday, December 7, 2007
You will fall in love with this new neko dress very very cute yet sexy, white with pink paw print. This Dress will make a awsome Gift for that some one specail.Comes with blouse,shorts,socks,sulpted should fluff,fles dress and a neko hair pin.scroll down for pic

Mews

posted by Passionate Neko Dreams @ 2:20 PM

Gothic SOng Bird and more
Wednesday, December 5, 2007
It all most christmas so i been buzzy design you are sure to love my new design.Gothic Song Bird gothic Lolita dress.Chinease Coat Jest in time for winter.and Naughty Christmas a fun sexy Lolita that well make you to talk of the town.

Merry Christmas Mews

posted by Passionate Neko Dreams @ 10:19 AM

About Me
Name: Passionate Neko Dreams
Home: United States
About Me: Designer *Passionate Neko Dreams* I love designing Gothic Lolita's, Dolly Dresses, Neko, Punk, Urban, Gothic Vamp Designs, Lingerie, Vintage, and much more! I have made SL both my career and my home. I am by nature an ecclectic artist, ever exploring the depths of my own darkest dreams. It gives me great pleasure to bring you Gothic and original styles and designs, from the depths of my soul, to yours... =^.^=
See my complete profile
New Kitty Cats Meow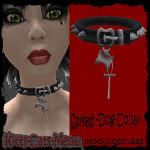 We at PND are happy to bring you our NEW sister store Kitty cats Meow!!! KCM has Neko tails,Puppy Tails,Collars,Neko Gear,Jewlry,Skins/Shape & Much Much More for the neko at heart !!!.



Working on blog. ;)
SL Fashion Blogs
Previous Post
Archives
Powered by