X-men and Resident evil
Saturday, September 29, 2007
It Coming soon Halloween!!! I have 2 New costume you are sure to love.
The fame red dress from resident evil and that right a X-Men Lolita design after the old school x men, you are sure to the talk of you halloween bash


Also you can also find the LM to my Halloween store in Saur Holt Profile/Picks
posted by Passionate Neko Dreams @ 7:06 AM

NEW Halloween Lolita
Friday, September 28, 2007
It almost that time of year , time to brake out the pumpkin and Wake the dead.
Looking for the perfect Halloween costume? try this two new costumes
Black Widow and Pumpkin Lolita.


Happy Halloween
posted by Passionate Neko Dreams @ 8:43 AM

Timeless Love
Thursday, September 27, 2007
Timeless Love has a old victorian feel to it open front to show of the ruffle bloomer. Looking for a event winning dress ? or looking for a Old style gothic dress ? then this Dress is for you
Comes with blouse, ,bloomers, socks,should fluff,bloomer ruffles and a flex dress.


Mew
posted by Passionate Neko Dreams @ 7:47 AM

Jack
Wednesday, September 26, 2007
posted by Passionate Neko Dreams @ 8:31 AM

Queen Of Heart Costume
Tuesday, September 25, 2007
Looking for something a little different this Halloween? Then the Queen of Hearts is for you!
This outfit is as colorful as it is totally unique. It will turn heads at any Halloween bash or any event for that matter. Though here is an added treat for your bag of treats and tricks!. Not only do you get the outfit but the skin, hair, and scepter as well. Thats right all of it! So not only will people love your new outfit, they will love the entirely new you! So be the Queen of Hearts and send that pesky Alice back where she came from!
Comes with skin,hair,jacket,shorts,bloomers,should fluff,neck fluff,bloomer fluff, flex skirt and a scepter.
posted by Passionate Neko Dreams @ 9:47 AM

Queen Of Heart Costume
posted by Passionate Neko Dreams @ 9:45 AM

Neko Treats Top Hat
Monday, September 24, 2007
This is a fun sculpted top hat with a urban/gothic feel to it comes with sculpted top hat pack of smokes,candy,sculpted bottle,teddy bear and a pipe, all tie to top hat with rope.

Mews
posted by Passionate Neko Dreams @ 8:08 AM

Neko Utilitie Belt
Sunday, September 23, 2007
Neko Utilitie Belt is a fun yet useful . This belt has a cell phone, Treats and a fish in a bottle. as soon as i put this design out i sold 5 with in 5 mins of posting a notice in my group.
posted by Passionate Neko Dreams @ 12:17 PM

Broken Dollie Lolita Dress
Saturday, September 22, 2007
Broken Dollie is a joint project. I design the Lolita Dress and my good friend Lacey Merten design the skin
This design is cute with a splash of undead. Looking to look like a undead dollie. then you well love this design.
come with blouse,shorts,stockings,should fluff and a flex dress.
Also after buying this dress click the link and go to my friends store to get the skin and AO.


Mews
posted by Passionate Neko Dreams @ 8:42 AM

Señora de la noche Salsa Dress
Thursday, September 20, 2007
This has to be my best work yet. you will enjoy this new dress. i plain on wearing it my self to Salsa Saturday at forsaken. If you are looking for a affordable event winning dress then this Dress is for you .
Comes with a corset,shorts,stocking.flex skirt and flex arm bands.

Smiles wanted to say think you all for you support. it been a stressful weak, and seen i got 4 new design out this weak . i am going to take a couple of day off. to regain my composure.

hugs n kisses besos
posted by Passionate Neko Dreams @ 5:56 AM

Gothic/Punk Leather Biker Jacket 2
Tuesday, September 18, 2007
Here is my new Gothic punk leather jacket. it has been designed after a RL jacket i own.
I have lower the price from this morning posting.
Mews
posted by Passionate Neko Dreams @ 8:52 PM

Vampiresa
Monday, September 17, 2007
New Vampiresa is the 5th in my Vampire line. awesome Dress for salsa and or gothic event.
Very sexy under a moon light night.You are sure get turn head and eyes in this design. This design comes with Blouse, shorts,red fishnet stockings,flex dress,sash and should sash.

Mews
posted by Passionate Neko Dreams @ 11:54 AM

Urban licks
Sunday, September 16, 2007
Looking for a gothic/punk outfit with style? this design is gothic/punk yet Fashionable.
3 in out out fit Comes with a long sweeter with ruffles, pants,socks,arm and neck ruffles,flex skirt, sash and a sculpted beanie

Mews
posted by Passionate Neko Dreams @ 11:33 AM

Sweet-N-Sasy
Friday, September 14, 2007
2 Outfits in one ,Sweet Lolita Dress you will look so cute in and under The Lolita dress Sasy Lingerie -HOT- Very sexy. Purrrz. Meow!!
This design comes with blouse,shorts,panties, bra stockings,gloves and flex dress.


Mews
posted by Passionate Neko Dreams @ 10:52 AM

Vampire Queen
Thursday, September 13, 2007
Feeling the dark call of fall whispering over you. Hearing the call of the night . Here is my 4th dress in the vampire line. this design is in a gothic gown style. Well be awsome to wear on a dark event Comes with a blouse,short,flex dress,should fluff and glove.
posted by Passionate Neko Dreams @ 9:00 AM

Punk Rock Girlll
Wednesday, September 12, 2007
The name say it all. this cute yet punky outfit will make you the talk of the town.
Comes with a jacket,shirt,short,socks and flex mini skirt :-)
posted by Passionate Neko Dreams @ 8:16 AM

Demond Dollie
Tuesday, September 11, 2007
Like Leather ? you will love this new Lolita ,very sexy. This design will Make a awsome good and evil event dress or hanging out looking Kewl. Comes with Leather top,Leather shorts,Leather flex dress,Leather should fluff and black and white socks.
posted by Passionate Neko Dreams @ 8:02 AM

Neko Feet & Leg Warmers
Saturday, September 8, 2007
Looking for a fun/cute shoe try Neko Feet with leg warmers . this cute shoes look like Kitty Feet with a punky/cute and a white fish net sock. Leg warms come in 3 dif colors.


2 More Days Left on Buy 2 Get 1 FREE

~Mews~
posted by Passionate Neko Dreams @ 8:49 AM

Zombie Punk
Tuesday, September 4, 2007
You well enjoy this new design cute yet spicy . in a goth/punk style this outfit is hot.
would make a awsome outfit you wear at a punk/goth event.
this design comes with a skirt,shorts, stockings and a flex mini skirt.
posted by Passionate Neko Dreams @ 7:47 AM

Party Lolita
Monday, September 3, 2007
Have a party or event wanting to find that special dress. try this playful yet sexy Lolita in a anime style with soft cotton giving a angelic feel to this design.
comes with a blouse.shorts.stocking and Flex skirt.


~Mews~
posted by Passionate Neko Dreams @ 8:45 AM

Raven Dollie
Sunday, September 2, 2007
Raven Dollie is sexy yet cute made with a sheer black cotton with black silken bows. You well be the talk of town and turn some head.Comes with a sheer cotton blouse with silken bows,sheer cotton shorts, sheer cotton stockings. should fluff with bows,fluffy flex dress with silken bows and stocking bows
posted by Passionate Neko Dreams @ 10:38 AM

About Me
Name: Passionate Neko Dreams
Home: United States
About Me: Designer *Passionate Neko Dreams* I love designing Gothic Lolita's, Dolly Dresses, Neko, Punk, Urban, Gothic Vamp Designs, Lingerie, Vintage, and much more! I have made SL both my career and my home. I am by nature an ecclectic artist, ever exploring the depths of my own darkest dreams. It gives me great pleasure to bring you Gothic and original styles and designs, from the depths of my soul, to yours... =^.^=
See my complete profile
New Kitty Cats Meow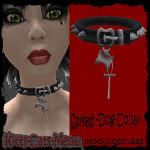 We at PND are happy to bring you our NEW sister store Kitty cats Meow!!! KCM has Neko tails,Puppy Tails,Collars,Neko Gear,Jewlry,Skins/Shape & Much Much More for the neko at heart !!!.



Working on blog. ;)
SL Fashion Blogs
Previous Post
Archives
Powered by