SpringTime-Dollie
Thursday, March 27, 2008
Spring Time Dolly
Now that the daffodils and lambs are out in the fields, Passionate Neko Dreams are releasing the perfect dolly to lay in the spring sun. With three colours, lemon, burgundy and violet there has never been a better outfit to play with the butterflies in. Lil Neko is proud to release Spring Time Dolly.

posted by Passionate Neko Dreams @ 8:55 AM

Gamers Belt
Gamers Belt
Bold Vixen is proud to release another in her popular belt range. Inspired by the gaming world, this belt comes with two controllers strapped to the side by there cords, an Atari inspired belt buckle, and packman and joystick key chain. So show your gaming pride with this fantastic belt.

posted by Passionate Neko Dreams @ 8:53 AM

Skull & Chains Paints
Tuesday, March 25, 2008
Skull & Chains Pants
Passionate Neko dreams are proud to announce the release of these unisex trousers. With a cool belt with skull sculpty buckle and chains, and prim skulls at the knees, these pants take gothic to new heights. So prepare to meow at the moon and prowl the night in these amazing skull pants.scroll down for pic
We are in Search Under Passionate Neko Dreams
Mew

posted by Passionate Neko Dreams @ 8:34 AM

Velvet Candy Dollie
posted by Passionate Neko Dreams @ 8:33 AM

Friday, March 21, 2008
Gothic Easter –
Passionate Neko Dreams is proud to announce the release of Gothic Easter. Another collaborative work from Lil Neko and Bold Vixen, this is by far the most elaborate design ever released at our store. With rich sumptuous textures and a dolly skirt that is both ad horned with bows and petticoated to a level of cuteness that will melt even the coldest of hearts. The dress also has been designed to have a matching set of pyjamas so you can take this outfit to bed with you. If owning the best dolly isn't enough, bold vixen has included animated bunnys in a picnic basket, an animated bunny on a bonnet that matches the outfit and a pair of bunny slippers. This outfit is available now in the mob vendor for a limited time (which is outside the store for the event).
posted by Passionate Neko Dreams @ 9:42 AM

Gothic Easter Dollie
posted by Passionate Neko Dreams @ 9:40 AM

Easter Event and Items
Easter at Passionate Neko Dreams –
We at Passionate Neko Dreams value our customers dearly, so for Easter you are getting a whole basket of dollarbee items, 10 dollarbees from Lil Neko and 4 from Bold Vixen. All of the quality you have come to expect from the events we take part in. So get opening the Easter boxes and have a happy easter. Also we are not the only store on the Sim offering dollarbee items, LVS and Co also has a nice selection that will perk up your ears. So pounce on over to Passionate Neko Dreams this weekend cause the Easter Bunny has been to town and clearly loves you all.


posted by Passionate Neko Dreams @ 9:38 AM

New Easter Bunny Froo Froo av
Little Bunny Froo Froo –
For a limited period Passionte Neko Dreams is offering a special furry avatar that comes complete with its own dolly. Adorable and loveable Little Bunny Froo Froo is sure to win your affection. And at the special price of 75 lindens you can love her without the guilt. So come on, show your furry side this Easter, and with a simple twitch of the nose you and a click of the mouse your bunny heart will shine.

posted by Passionate Neko Dreams @ 9:30 AM

Neko-SIlky
Tuesday, March 18, 2008
Neko Silky
With spring now showing us all its colours, Passionate Neko Dreams thought it was a good time to unpack the shorts to romp in the meadows of second life. With a low cut white top, sexy short denim shorts and chained stockings you will feel cool all day while you chase the butterflies and crickets.scroll down for pic

posted by Passionate Neko Dreams @ 9:15 AM

Cat Fight
Saturday, March 15, 2008
Cat Fight –
Passionate Neko Dreams is donning the gloves and preparing for a fight with Lil Neko's latest release. With 7 colours to choose from and a punky detailed full prim skirt this is sure to be one outfit that wont leave your blood spilt. So time to let down your guard and get hit on the chin by the new Cat Fight outfit.
posted by Passionate Neko Dreams @ 9:25 AM

Ballerina Blood Doll
Tuesday, March 11, 2008
Ballerina Blood Dolly
Passionate Neko Dreams is proud to start the dance with the release of the Ballerina Blood Dolly. With a delicate rose choker, beautiful red tutu, ballerina shoes and warm leggings this is outfit is sure to unleash the music of your heart. So let the magic of the dance take you away with the Ballerina Blood Dolly.scroll down for pic
We are in search Under Passionate Neko Dreams

Mew

posted by Passionate Neko Dreams @ 8:32 AM

Gothic-Head-Huntress
Sunday, March 9, 2008
Gothic Head Huntress
My Dead Kitty has unwittingly unleashed a demon while she played in the woods of second life. Now the Gothic Head Huntress is out for blood and looking to increase her collection of human souls. With sculpty head shoulder pads, nipple piercings and a flexi silk outfit she is a fearsome yet seductive sight to behold. Should you come across this demon it is advisable to pay 200 linden for her to bestow upon you her power, or else she might just add you to her

Mews
posted by Passionate Neko Dreams @ 8:04 AM

Amys Lust
Friday, March 7, 2008
posted by Passionate Neko Dreams @ 9:06 AM

Pink-Crossbones
Tuesday, March 4, 2008
Pink and Crossbones.
Passionate Neko Dreams is proud to announce another fun and exciting dolly from Lil Neko. With pink cross bone design, she combines cute with gothic to bring you this awesome outfit. Including her now popular short cape, this is a dolly that is not scared to be different, and is prepared to bring a splash of colour to a gothic night.scroll down for pic
We are insearch under Passionate Neko Dreams
Mew
posted by Passionate Neko Dreams @ 6:14 AM

The-Ice-Princess
Sunday, March 2, 2008
Ice Princess.
Lil Neko and Bold Vixen has joined forces once again to create this delicious outfit set. This design is so beautiful it could only be considered design royalty, so prepare the fan fare cause the Ice Princess is about to make an entrance.
This set comes with:-
2 Capes – Long and Short3 Skirts – Mini, formal, ball gownCan also be worn as Lingerie1 Necklace – 200+ Prim Butterfly Necklace1 Bracelet – 150+ Prim Delicate Bracelet1 Fascinator – 150 + Prim headdress.
This outfit is now sat upon the throne of our MobVendor, the starting price is 1000 linden, but get enough people to the store and you could make the honours list for only 150 linden. So join the coronation today!!!
posted by Passionate Neko Dreams @ 1:47 PM

Passionate-Midnight
Passionate Neko Dreams is proud to announce the coming of midnight. When the clock stroke 12, and the world of second life was a hush, so this dress was born. Sumptuous in colour and decadent in design Passionate Midnight is sure to set the chimes of your heart ringing out to the moon. come with Corest with 3 layers,Shorts with 2 layers,socks,gloves,flex dress and a cute cape.scroll down for pic.
We are in Search Under Passionate Neko Dreams


mew
posted by Passionate Neko Dreams @ 7:33 AM

About Me
Name: Passionate Neko Dreams
Home: United States
About Me: Designer *Passionate Neko Dreams* I love designing Gothic Lolita's, Dolly Dresses, Neko, Punk, Urban, Gothic Vamp Designs, Lingerie, Vintage, and much more! I have made SL both my career and my home. I am by nature an ecclectic artist, ever exploring the depths of my own darkest dreams. It gives me great pleasure to bring you Gothic and original styles and designs, from the depths of my soul, to yours... =^.^=
See my complete profile
New Kitty Cats Meow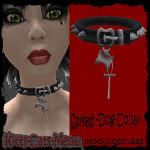 We at PND are happy to bring you our NEW sister store Kitty cats Meow!!! KCM has Neko tails,Puppy Tails,Collars,Neko Gear,Jewlry,Skins/Shape & Much Much More for the neko at heart !!!.



Working on blog. ;)
SL Fashion Blogs
Previous Post
Archives
Powered by